We were invited by RADMoto to attend their first annual RADical Challenge event. For those who aren't familiar with RADMoto, they are a KTM powerhouse of a dealership in Sandton and they offer a one-stop-shop for all of your orange needs.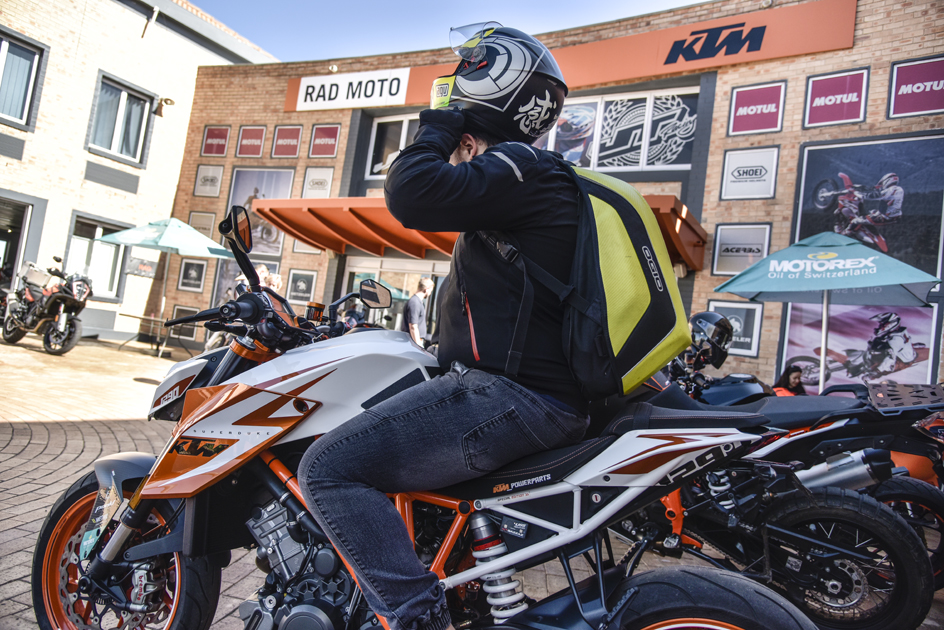 The RADical Challenge kicked off at RADMoto's dealership and headed out towards the beautiful Eastern Free State where clues and challenges were awaiting us along the way. If this was an episode of wacky races, Bill Hunter and I would be Dastardly and Muttley [Team 00 known for cheating and causing havoc], but luckily Amorette [Marketing Manager at RADMoto] assigned another teammate to join our team and his name was Brent Cramer [Thor for short].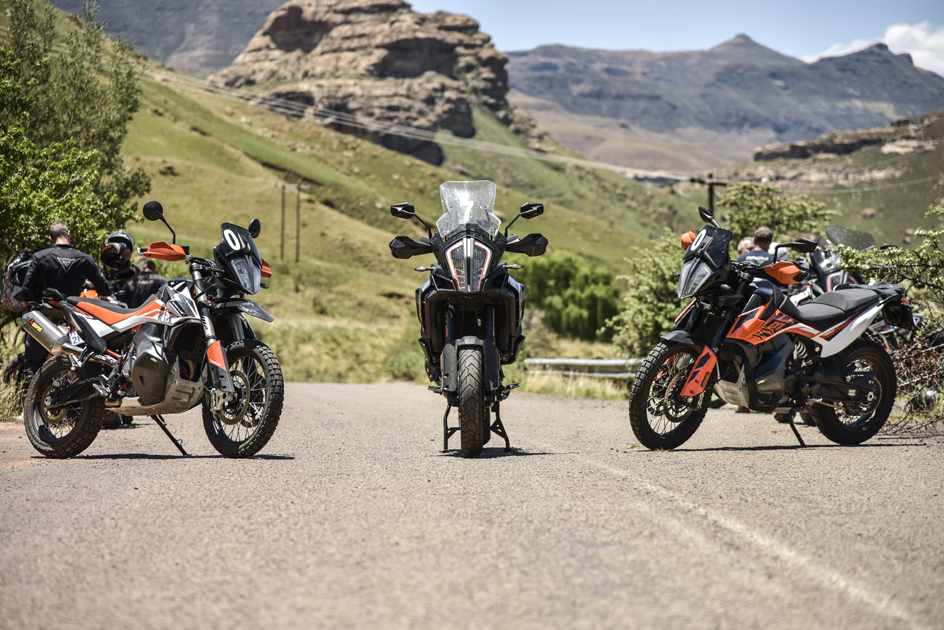 How does the challenge work? Each team starts off with 100 pts and penalties cause you to lose these points throughout the day. A clue card is given at every checkpoint, you are then allocated 15 minutes to figure it out. If you cannot figure it out you are given a massive penalty and the next destination is provided to you.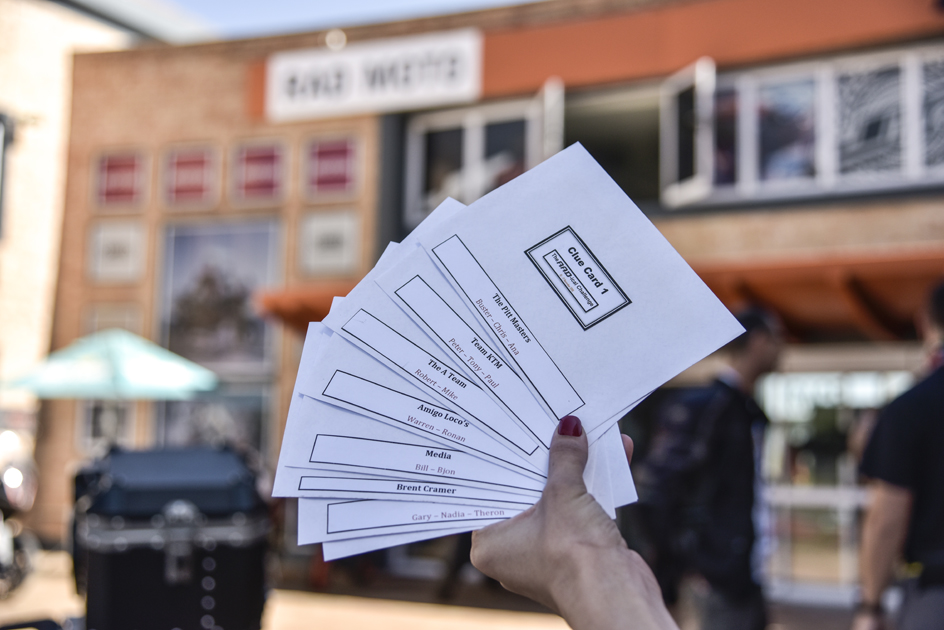 After the ridiculous three were acquainted, we then got handed the first clue of five for day one's proceedings. After figuring out the first clue we jumped onto our orange beasts, both myself and Bill riding 790 Adventures and Thor had his hammer, the 1290 Adventure S. Thor had the navigation on and all we needed to do was follow, but follow is easier said than done. Bill and I shot ahead and piggybacked off of Arnold Olivier [Accessories Manager at RADMoto] and his lovely lady Christina May, who was policing the event [so yes, cheating was taking place].
Arnold quickly noticed two 790's on him like two annoying flies and tried to shake us by pulling over at an off-ramp. Boy did we look stupid! Lucky Thor showed up and we stuck behind him till we arrived at our first destination [Vereeniging Kart Circuit].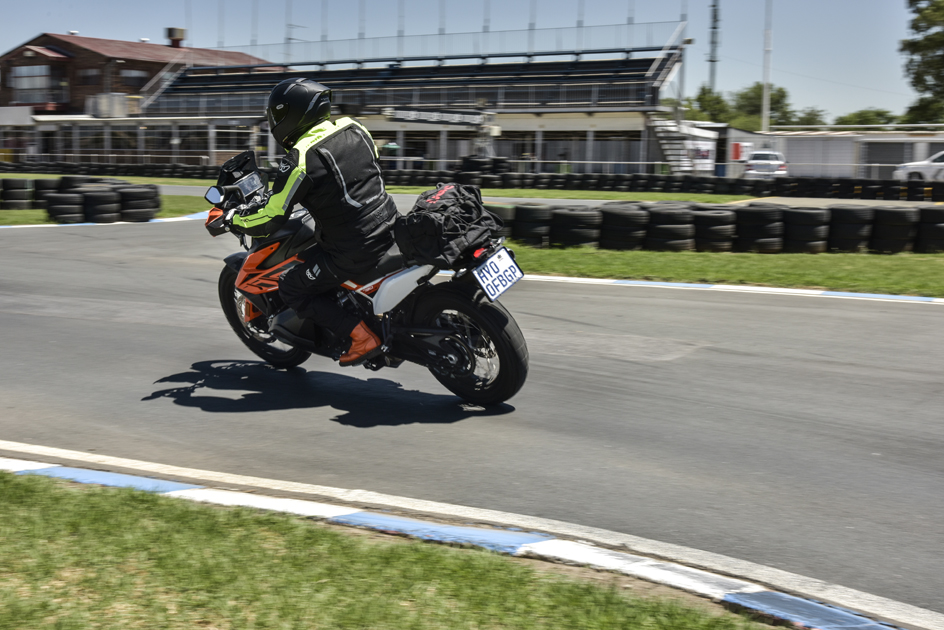 Bill and I looked at each other in utter pleasure because familiar terrain was in front of us. A track! Again this is the RADical Challenge, nothing is how it appears. Strict rules were in place and that being, two full laps around the track, styling the gear in with which you leave pitlane and no braking whatsoever, otherwise points would be deducted. I left pitlane on a 790 Adventure R with all sorts of battle scars from previous journos and no knee sliders unlike the majority of the Duke riders. I managed to set the top time around Vereeniging after pushing the Adventure R nearly to its max in the bends.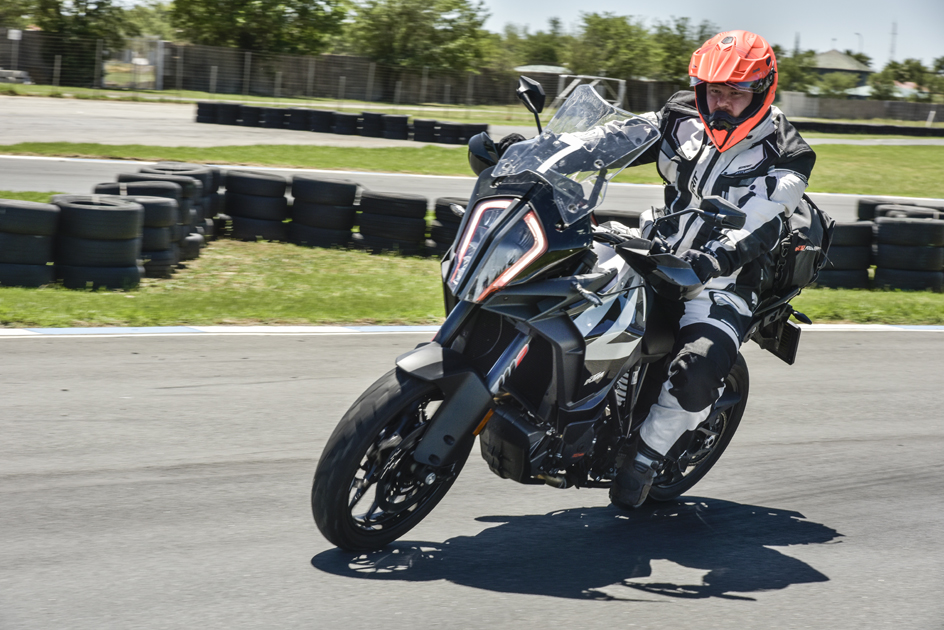 Our next clue was a riddle that, once answered would lead us to our lunch spot. Bill gave up and Thor and I kept pushing till a destination of sorts was found. A thumbs-up was given and before we knew it, we were having a good lunch at OJ's in a little town called Heilbron.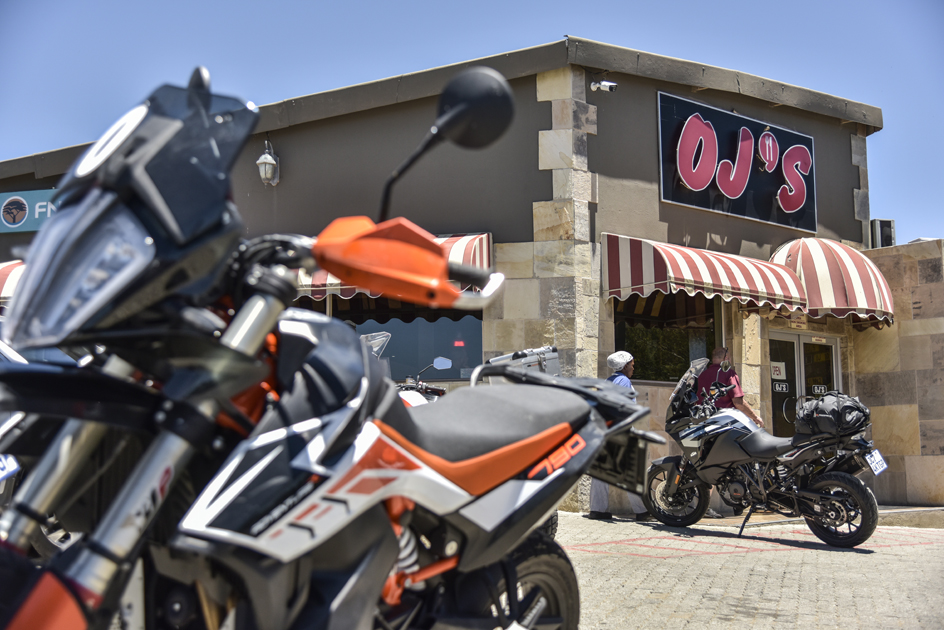 During lunch, we developed a strong bond within our team, with some good old banter taking place. Brent was really enjoying the event, he was very relaxed, not in a typical KTM "Ready to Race" mindset. I was also enjoying the team side of things and at the same time looking forward to the upcoming challenges.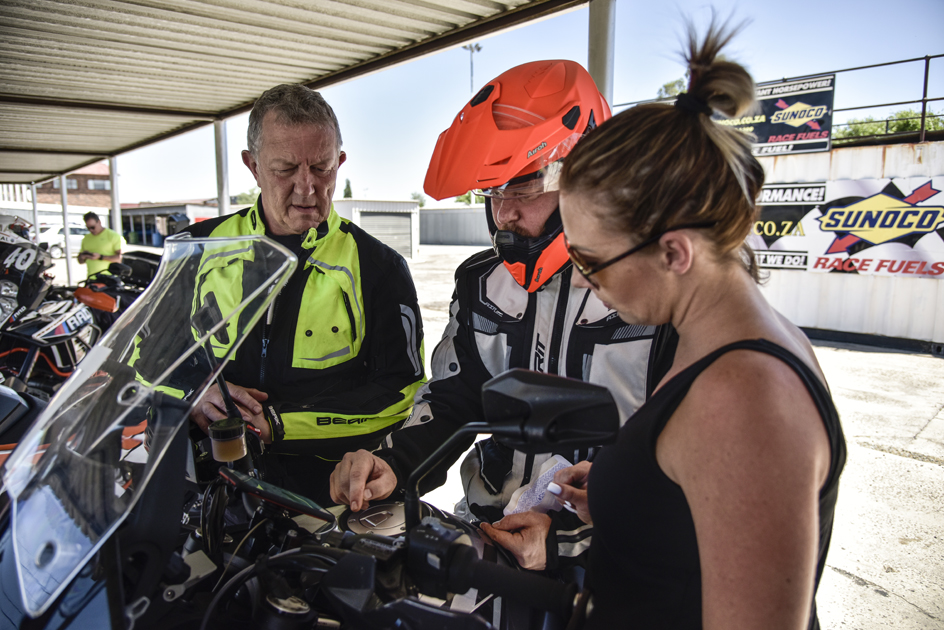 The next checkpoint was just so interesting, a family-owned Jam shop on one of the quietest roads that I have ever come across. The owners were extremely happy living the simple life and they were ecstatic to see us all at their corner shop. The next challenge was an obstacle course in which we had to walk over soft tyres before blowing a balloon until it popped.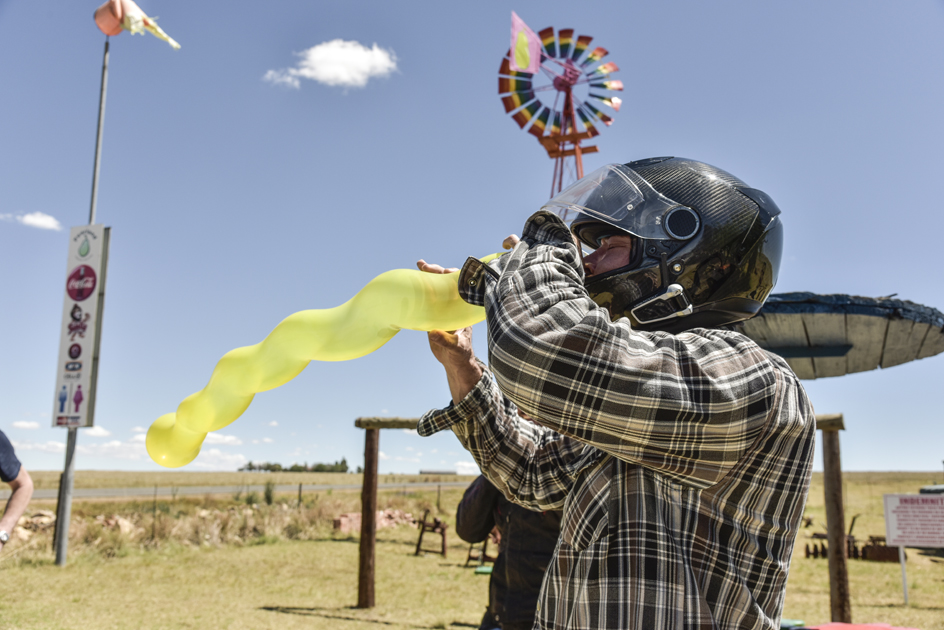 With zero reception, Thor and I were having a tough time figuring out the next clue and before giving up, the inconceivable happened. Bill figured it out! When I say he figured it out, he just asked the locals. High-fives all round and off we were to a Church of sorts located in a town on the banks of the Vals River. We had to take a selfie in front of the Church before moving onto the next and final clue for day 1.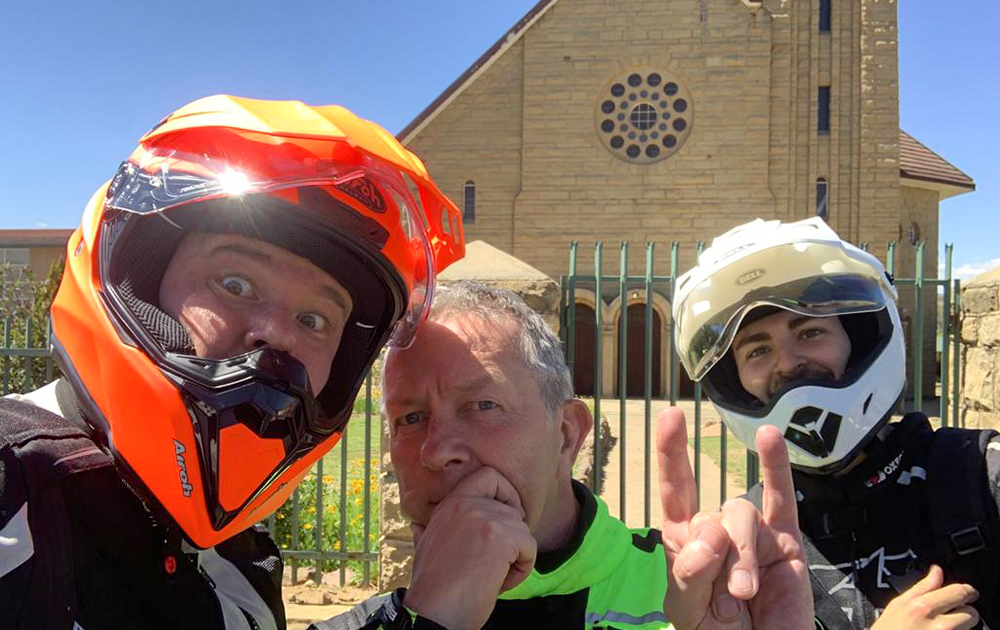 The final clue was super easy for the three of us. Well, that's what we thought at least. We had to ride into the heart of Clarens to find this little brewery and our clue card clearly stated R76 and 707 = danger. Well, we went down the 707 and then onto the R76 and then overshot our turnoff by a long way. We ended up getting to the brewery last with an extra 50 odd kays added to our journey. Day one was looking great until our 50 odd kay slip up. We did not care too much though, as we hit some sick roads and had a rather sporty ride into Clarens. After a cold one, we headed up a 5km + – dirt road to Miguel Lage's [Owner at RADMoto] family-owned private game lodge.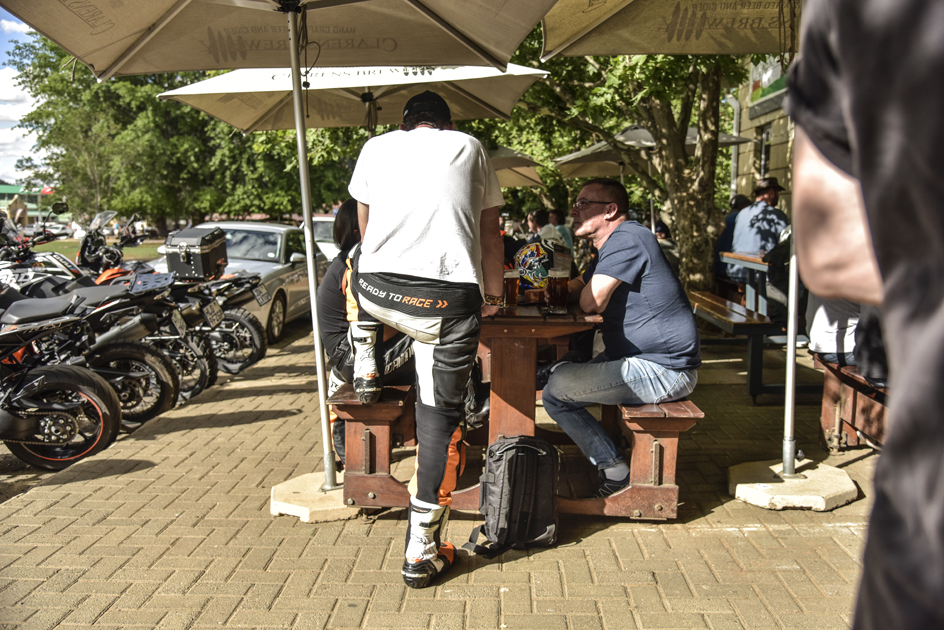 What a stunning venue for a two nighter in Clarens. It felt as if we were at the summit of Clarens with no mountain range being as high as we were. Oh man, seeing the wildlife roaming was amazing too. Miguel greeted all of us and gave us a tour of his premises, showing us where we would be staying and where we would be having a bit of fun in the evenings.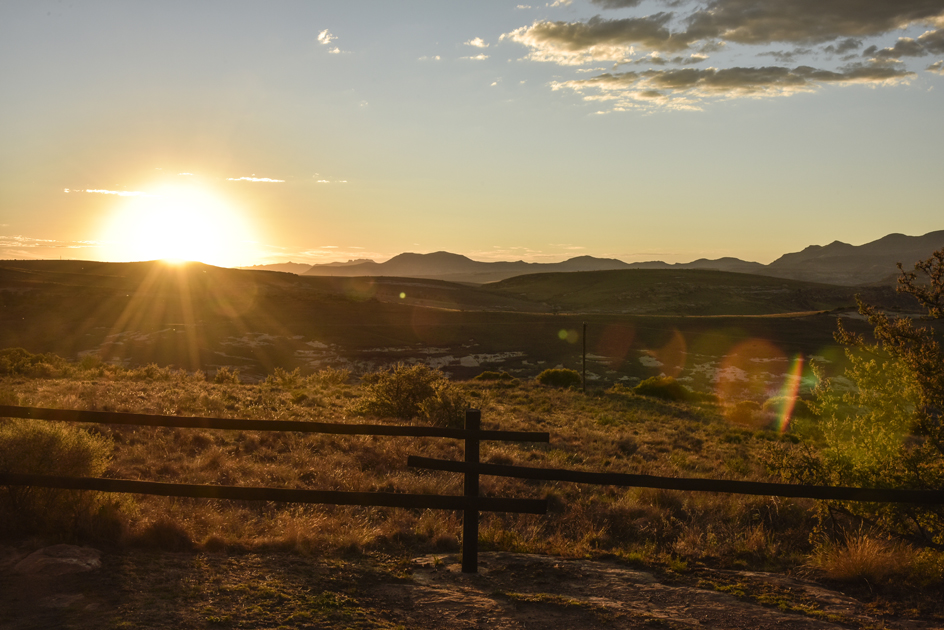 The first night over, I decided to take it easy and headed to bed right after dinner because I didn't know what these RADical okes had planned for us tomorrow. I was to bunk with two RADical racers from an opposing team and man were these two dudes great company. Mark and Robert decided they were going to do the opposite and go all-out and all-out these two went.
I went looking for the room key, first asking Robert, who said that Mike had the key. I looked extensively for Mike but he could not be found. I thought, maybe he passed out in the room with the key because we couldn't find this dude. Bill and I headed to the room and saw there were lights on but no one was answering, so through the bathroom window I went, with a kind kick up the ass from Bill. Robert eventually came back during the early hours of the morning. He pretty much face-planted straight to bed and counted sheep till breakfast.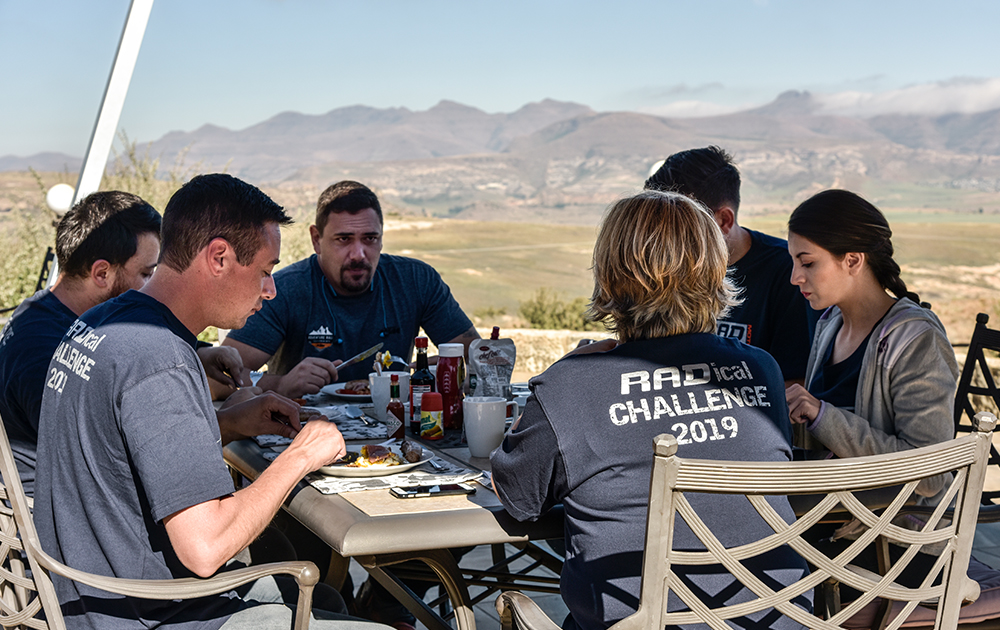 Day 2 of the RADical challenge was ready to kick-off and 6 more challenges were on the cards. Bill had a lot of motivation and wanted to take the lead in the RADical Challenge standings. We chowed down breakfast, nailed the first two clues and were nearly the first team on the road. The first destination was Golden Gate Highlands National Park located in the mountains with spectacular scenic views. The second destination was the Basotho Cultural Village.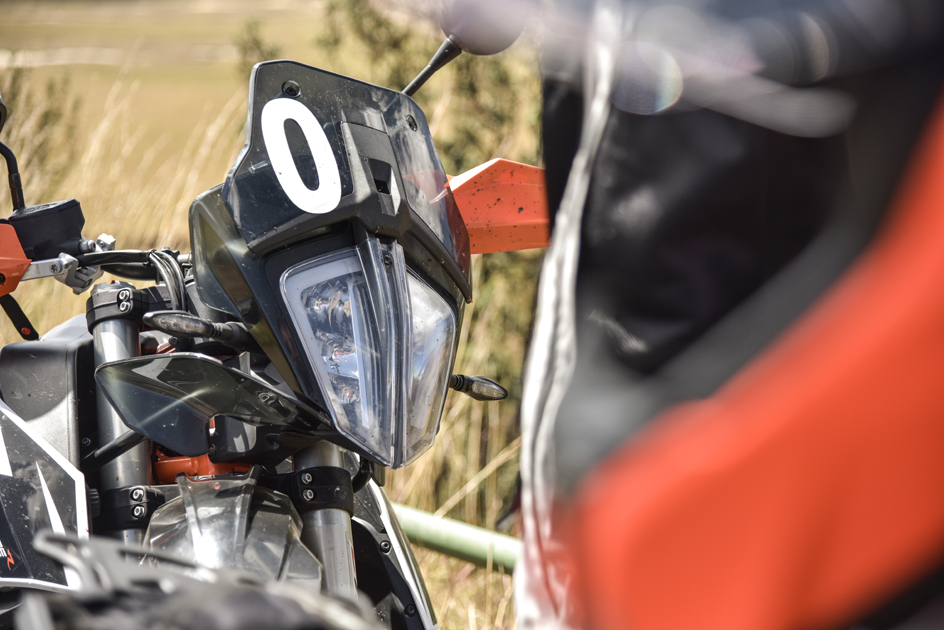 We hit the road, Thor took the lead down the stunning R712 and before we knew it we were carving corners. Bill had dropped off, being team 00, we shrugged off the fact that he was lost and carried on hanging cable to the next checkpoint. We stopped at the checkpoint and waited for Bill. After a while, Bill came hurtling down the road, we could not quite make out what Bill was trying to tell us, we just saw hand signs and some not so nice language coming from Bill's mouth. Jip! We had overshot the first destination and we were now at the second checkpoint instead so we headed up to see if we could negotiate not going all the way back.
Amorette instructed us to head back to checkpoint one, to which Bill wasn't having any of it. So, Thor and I headed back without Bill, completed the selfie and bubble-gum popping challenge and then roared down the R712 back to Bill. We thought that would have decreased the chance of getting a penalty, but we ended up finding out much later that this would be the reason for our downfall in the overall standings.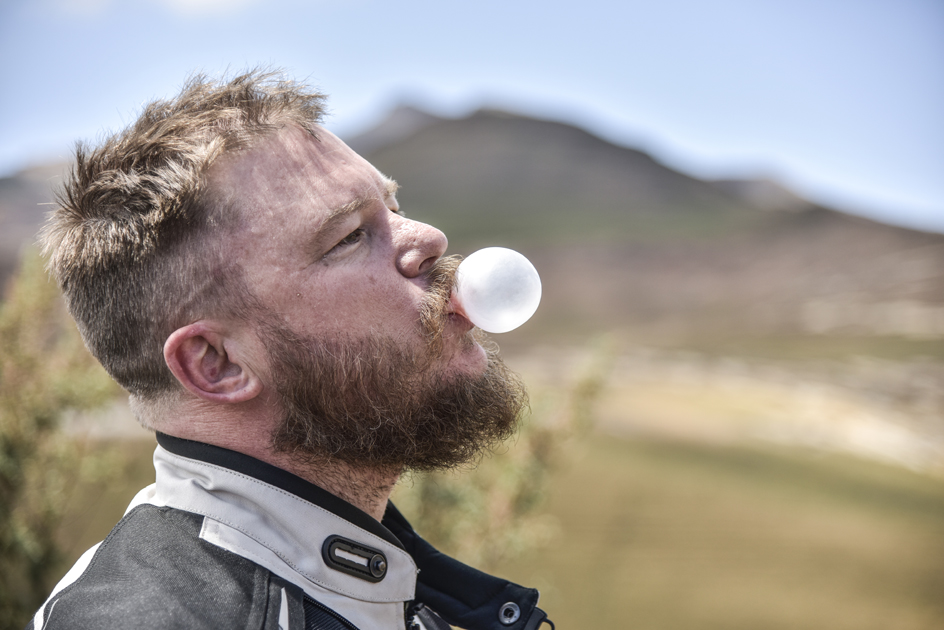 The R712 was calling once again with checkpoint 3 being at the Vulture Hide at Golden Gate. After being acquainted with this lovely road and knowing exactly where we were going, I gave those corners some loving. Our challenge at the Vulture Hide was eating a lovely roasted mopane worm. Thor helped himself, whilst Bill and I were ready for our penalties because we weren't up for such activities. Luckily we scored our points back by answering a few questions correctly in a quiz.
After checkpoint 4, we were then ready for our lunch and a rest. Luck was seriously against us on the way to Ionia Cherry Farm our lunch stop and checkpoint 5. Thor was in front and we were on a steady cruise until a Suzuki GSX-R came past. If any of you know Bill Hunter's history on Suzuki motorcycles and how he has raced them for years, then you would understand why he shot off and challenged this Suzuki to a street race. After overshooting our stop by several kilometres [trying to locate Bill], we took a short nap on the side of the road whilst waiting for Bill to return. At this point, we were all just looking forward to lunch and we headed back like a steam train with no brakes.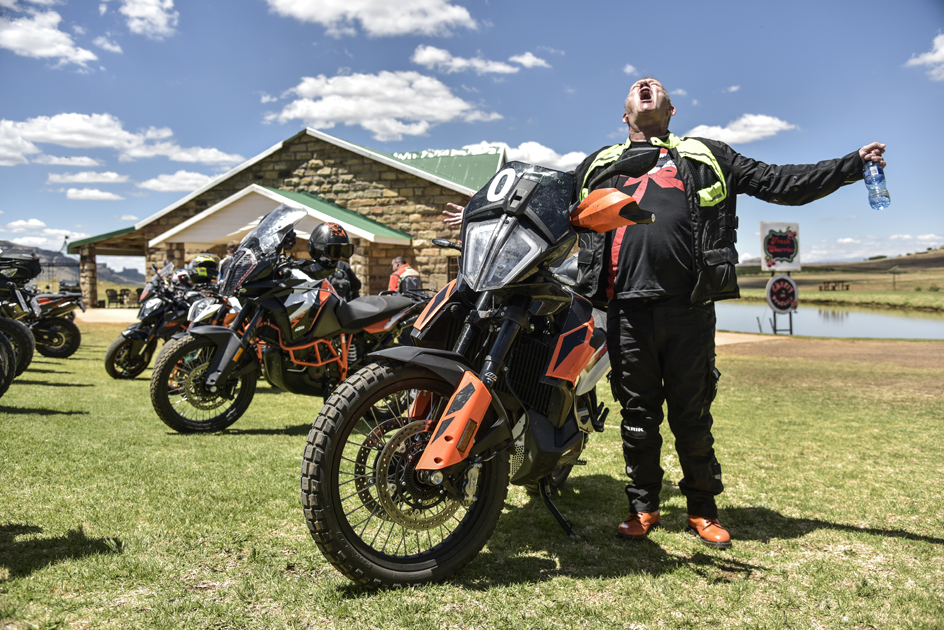 Ionia Cherry Farm was yet again a stunning venue and RADMoto had booked us on a tour and a cherry-picking session in the lovely hilly countryside. After picking some cherries and taking part in another hilarious challenge where we had to spit a cherry pip as far as possible, we then went and had lunch.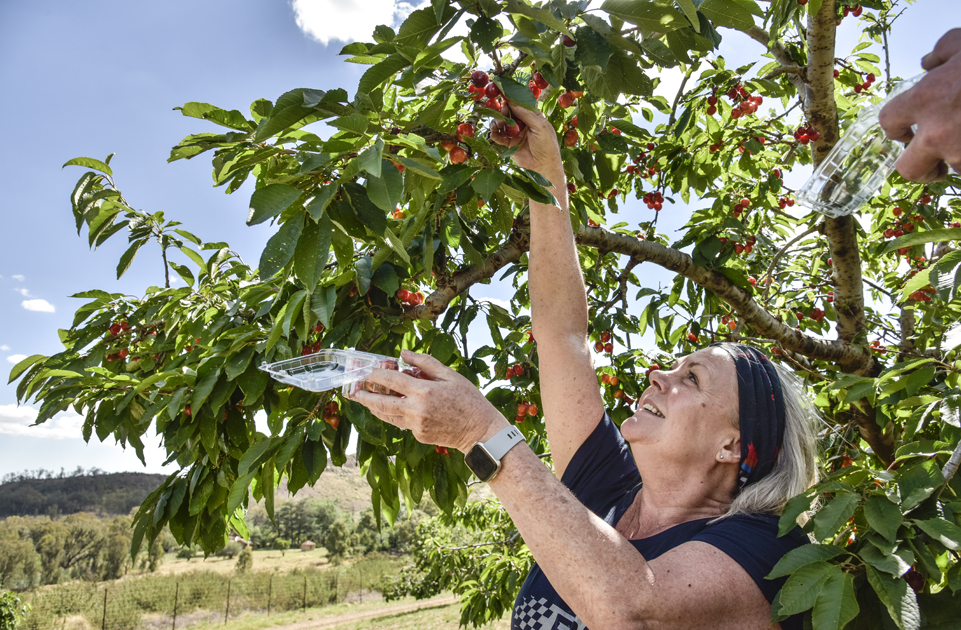 A divine lunch led to the last clue of the RADical Challenge. The last checkpoint was a military historic site where the English fought against the Boers back in the 1900s. After being timed in a questionnaire we were off to Clarens brewery for a cold one before heading to Miguel's place.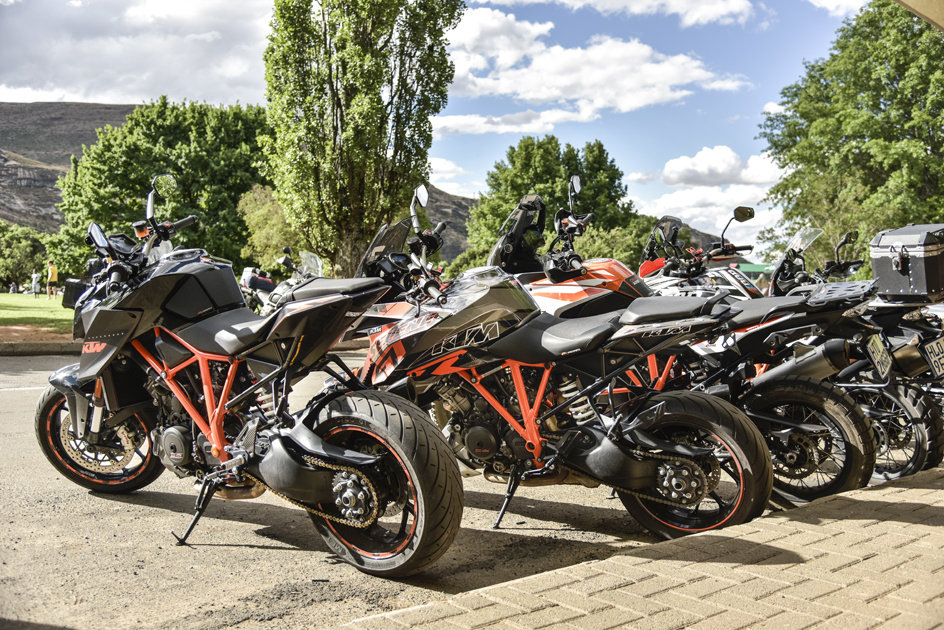 Mark was snapping away at an amazing sunset and it got me thinking about parking the 790 Adventure R in front of it. We then started chasing daylight by wanting more pics and getting Mark's stunning Adventure S into the shot too. What a great way to end this great adventure with some familiar Portuguese spices coming from Miguel's braai.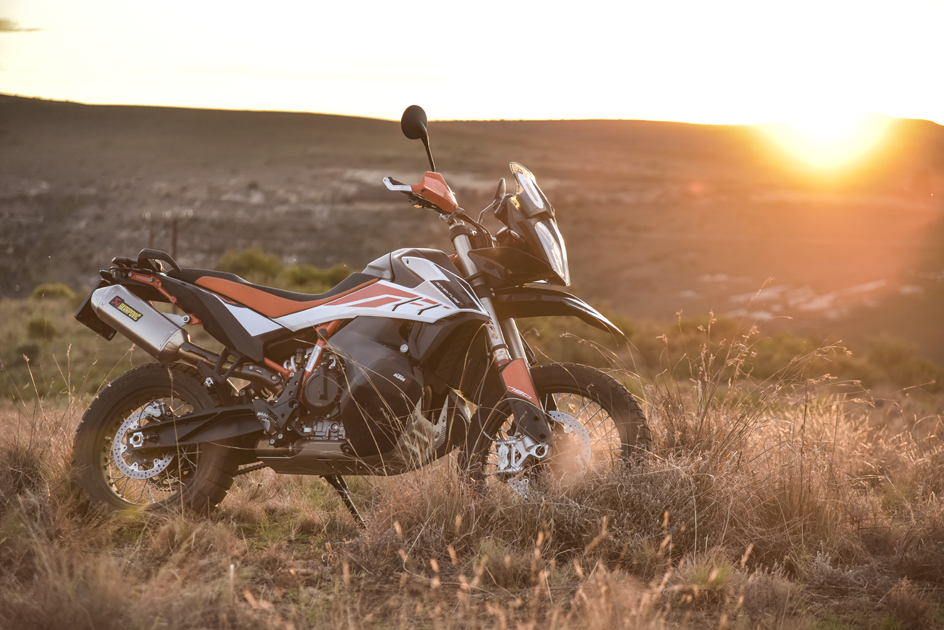 I would like to say a big thank you to the RADMoto team for organising such an awesome event and for keeping us all in check. I think it's fantastic to see a dealer organising such an event because it makes owning a KTM that much more worth it.
Meeting new people that become long term friends, as well as forming friendships with your KTM dealer really makes the entire experience of owning a motorcycle worthwhile. Keep an eye on our events section for more RADMoto social / riding events.